Seekins HIT.308 Win. 24 " Bbl FDE Rifle 0011710107-F-FDE
Seekins HIT.308 Win. 24, Dominate the competition with the HIT Rifle by Seekins Precision! This PRS-style rifle comes packed with additional features to give you an extra edge, and is backed by the Seekins 100% Shooter Satisfaction Guarantee that covers everything from accuracy to aesthetics.
It comes outfitted with a folding stock which can be finely tuned to fit an individual shooter, with an adjustable length of pull as well as vertical and rotational recoil pad adjustment.
The stock also features an integrated bag rider, and an adjustable carbon fiber cheek piece as well. The HIT's receiver has an integrated 20 MOA picatinny rail milled directly on top, and utilizes a Seekins Gen II bolt which can be disassembled without the use of tools.
Bbl FDE Rifle 0011710107-F-FDE
Other features of the HIT include a dust cover over the ejection port, is compatible with both single and double stack AICS magazines, and features a removable M-LOK pattern fore-grip for the installation of bipods, clip-on optic devices and other accessories. In addition, the HIT rifle utilizes a quick-change barrel system with guaranteed headspace, allowing the user to swap out different barrels for different applications.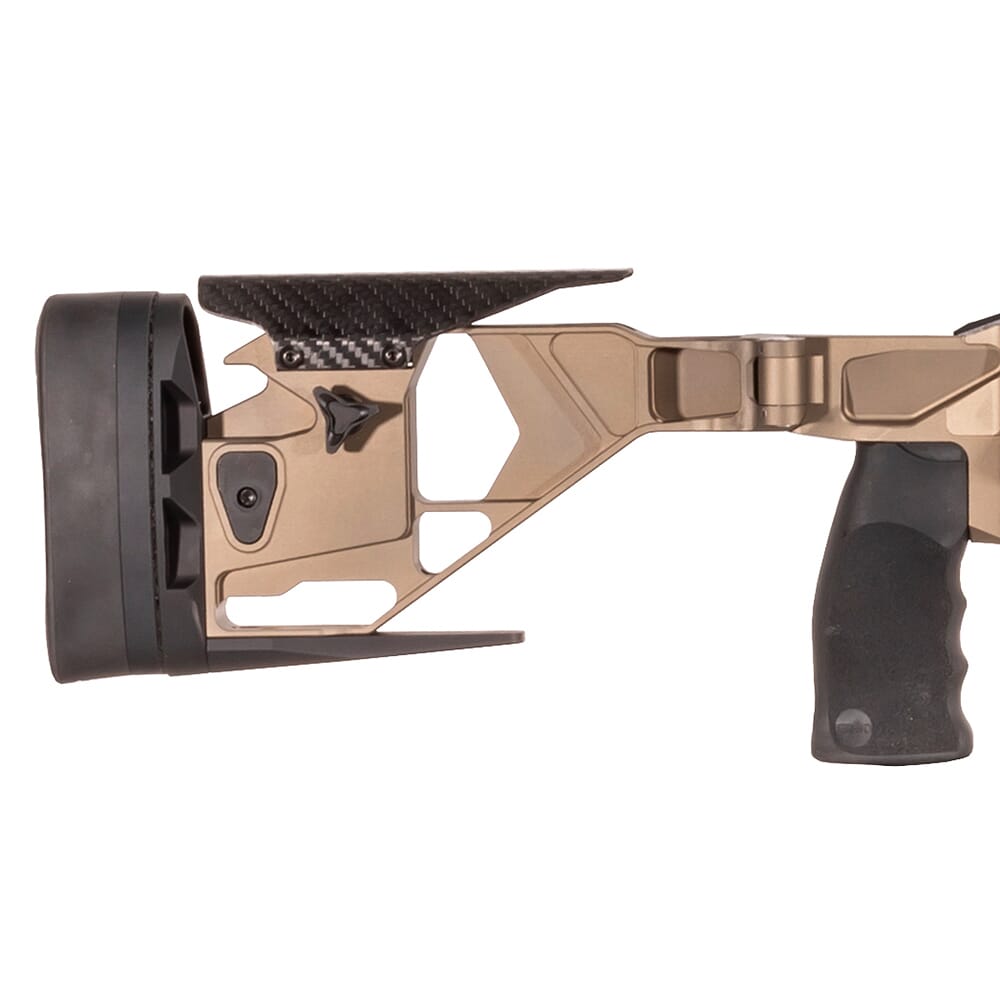 Features of the HIT Rifle:
Foldable stock
Adjustable for length or pull, as well as well as vertical and rotational recoil pad adjustment
Integrated bag rider
20 MOA picatinny rail milled directly into receiver
Seekins Gen II bolt with tool-free disassembly
Compatible with single and double stack AICS magazines
Compatible with most Remington 700 triggers
Removable M-LOK pattern fore-grip
Quick-change barrel system with guaranteed headspace
---
Specifications
Caliber:

.308

Weight:

~11.5 lbs

Rifle Overall Length:

43.5 inches

Action:

Bolt action – Seekins Gen II bolt

Rifle Barrel Length:

24 inches

Barrel Thread Pitch

5/8×24

Rifle Stock:

Folding stock – adjustable for length of pull (between 12.75" to 14.25") and cheek height

Scope Mount:

Integrated 20 MOA picatinny rail

Iron Sights

No

Caliber or Gauge:

.308 Win

Handedness

Right Hand

Item Condition

New

Product Type

Rifles

UPC

811452028906

MPN

0011710107-FDE